Aurora3D Maker (MAC/WIN) —– Reviewed by http://www.printerport.com/kdp/
Aurora3D Maker is a versatile, easy-to-use, text and logo editor and creator that simplifies the generation of sophisticated static and moving images. The program does an amazingly fast and incredibly beautiful job of converting a selected image from one of three template libraries (text, logo, and button), creating a new image from scratch, or importing an image.
Within minutes a user can intuitively generate stunning three-dimensional objects, and then manipulate them using a wide variety of tools, colors, shapes, styles, bevels, designs, animations, and lighting effects.
The controls allow for a significant range of settings, ensuring that the user can make precise adjustments to most parameters. Export options include .BMP, .GIF, .JPG, .PNG, .TIFF, .TGA, and others. In addition to being a valuable productivity tool, Aurora3D Maker is fun to use. $49.95
Contact: Aurora3D Software Co., Ltd., https://www.presentation-3d.com, e-mail: sales@presentation-3d.com.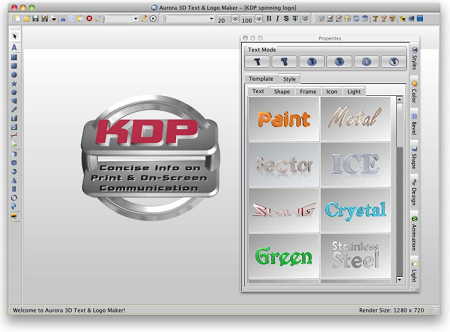 [Read more…]