Allow your creative imagination to easily compose stunning 3D Interactive, Video and Multimedia Programs! Quickly Design Business and Touch Screen Interactive Presentations, 3D Product Shows, 3D Animation Video and Other Multimedia. Export to EXE, Mac App or Video. Then distribute it Royalty Free!
Creative 3D Interactive Business Presentation Software (Mac & Windows) | Aurora3D Software
Aurora 3D Presentation uses powerful and highly effective techniques to enable you to develop impressive, professional, and compelling presentations in a variety of formats! With Aurora 3D Presentation, you'll be able to create rich effective solutions that include and combine images, text, video, and data in such a way as to draw your audience's attention.
If you only need something quick and practical, then Aurora 3D Presentation's templates and styles will provide you with all the resources you need. Easily put together your own 3D business interactive programs, and then export them to standalone EXE, Mac App or Video(only for Windows). You don't even need mastery over the layout or 3D Design basics! Free Trial offer!
Generate 3D Interactive Program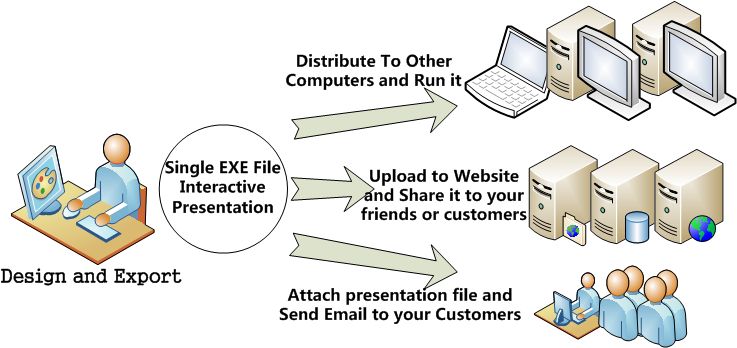 Create your own 3D interactive presentation program. You can output presentation projects generate an executable file (.exe) or a Mac app file(.app), through the network to download, Email, burn CDs released to the way your customers.
Record screen and export video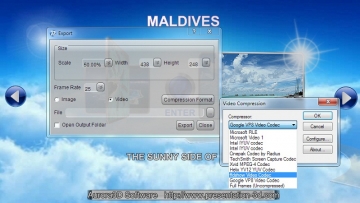 Aurora 3D Presentation Video output, you can demonstrate your 3D Presentation generate a variety of video files in real time,by installing ffdshow for vfw build *. mpg, *. avi, *. mp4 and other video format.
3D Interactive Event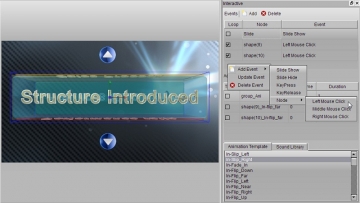 Aurora 3D Presentation can create a variety of interactive events, offers a variety of uimodule, you can target each of Presentation in a variety of three-dimensional space transformation, play sound, camera animation, Tooltip, video, etc.
3D Model Import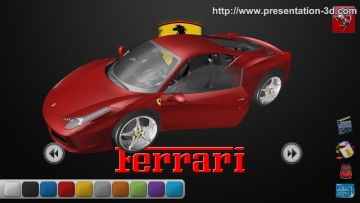 Import 3d(*.3ds, *.obj) file format and you use the texture, and use texture effects. In the presentation you can change the color, rotation, scaling and other operations, So people can view your models all-round. This is very exciting, isn't it?
Image Wall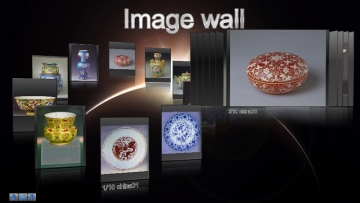 The new way of show your product and ideas, convey messages. Custom image description, and automatically switch the display. Image wall provides a variety of display pictures and information, including the circular array, curved array, etc., and use a special animation mode switching.
Navigation Function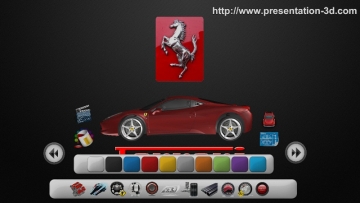 This is designed specifically for interactive use navigation, allowing you to freely cross between a number of presentations. You can create a link in the navigation to any one show, web or local files and executable programs. The way to show more flexibility and more convenient.
Dynamic Background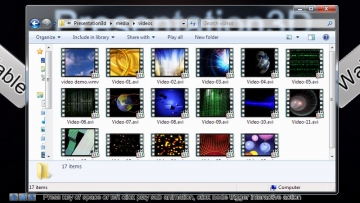 You can choose a greater variety of backgrounds, including colors,gradient, images, dynamic, and the skybox model. They can have regular exercise, also can be a virtual reality environment. I believe these will make you feel very special, and you can the flexibility to use at any occasion.
3D Graphics Templates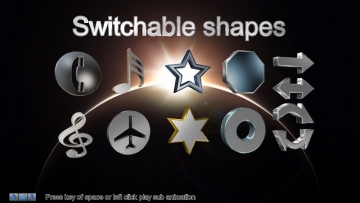 Software provides up to dozens of shapes, and you will use a variety of shapes, like circles, rectangles, triangles, stars, all kinds of arrows, and the cube, cylinder, cone, sphere and so on. These shapes can not only quickly change the style, and they can transform each other! This is a big feature.
3D Text Styles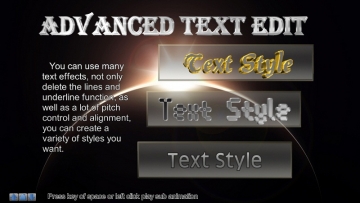 Including 2D and 3D text. 2D text has the outline and shadow, 3D text can be set to texture effects, gradients, bevel styles, and all text can have a variety of alignment, spacing, line logo, fonts and so on. In the 3D software we have created the most effective text editing, I believe you will love.
3D Animated Tables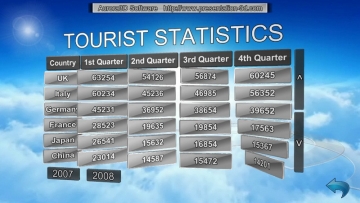 Data will then dry it? Not. We provide a new way of organizing data using tables,You can import .cvs file format created by excel. You simply select the style, fill in the data is complete. Use of the data and tables with special animation switch, you can achieve multiple tables and data display.
3D Data Graph
We have a more intuitive, easier to understand the data graph, including bar charts, pie chart, line graph, area and other graph, you can use the 3D way to present your data, reflecting the trend. Update data, graph can be animated in real time to change. It's impressive!
Particle Effects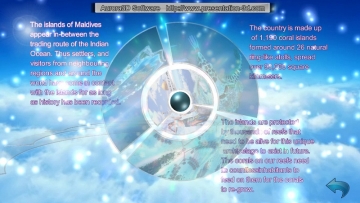 You will have a more splendid scene effects, such as space radiation, rain, snow, fireworks, smoke, etc., with these, you are free to improve the scenes, when you need to attract the eye, when you need to highlight your special features, I think you will use it.
Shapes Styles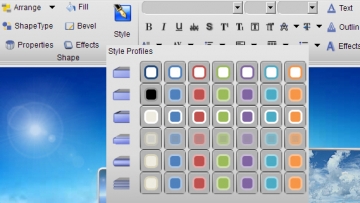 Software has a good mechanism about themes and styles, the first, software includes theme color combinations, in the fast-styles, each a theme color changes from deep to shallow, and with transparency, outline, and bevel combine to produce a rich style of type.
Text Styles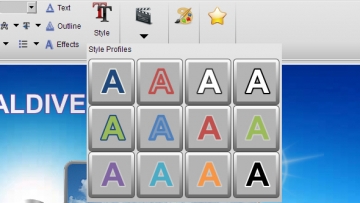 The Text fast-styles, each a theme color changes from deep to shallow, and with transparency, outline, and bevel combine to produce a rich style of type.
Colors and Textures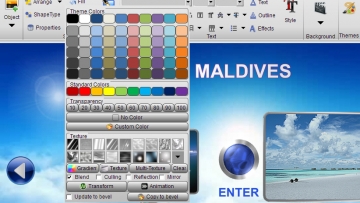 Choose the color matched the color theme. In texture, the software can not only select the built-in texture, but also can choose the texture image mix with color. It support reflection, mirror model, and can set the texture Transform and Animation.
Tooltip Function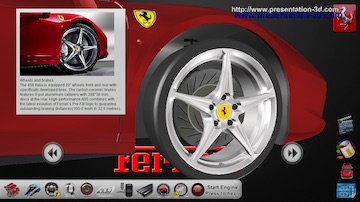 We support tooltip function to let users display product's function or description directly.
Easily create 3D interactive presentations with images, text, video, models, and data.
You don't need to be proficient with the basics of 3D design.
Choose a variety of ways to display your content.
No need to learn Flash, AE, Photoshop or other 3D Applications to design effective and stunning presentations.
Choose and pick many included design elements, such as backgrounds, themes, styles, shapes, effects and so on.
Real 3D space, real 3D object.
Export to standalone EXE, Mac App or video(only for windows) files, and import other 3D models or textures developed with any 3D design software.
Learn interesting 3D effects from any 3D software.
Save money using various 3D interactive designs.
If time is of the essence, then our software is your TOP choice. You'll be just amazed by its efficiency and results!
When your goal is to stimulate your prospective clients' interest in your material, you certainly don't use mere words to deliver your message! Instead, you want to make sure to use stylish and engaging graphics, charts, and images! Why struggle with a mixed bag of presentation applications when you could consolidate all of your presentation making proficiency and talent into Aurora 3D Presentations? So, what could you do with Aurora 3D Presentation? To start, how about an interactive menu that automatically launches slideshows, websites, or executable programs? Or a virtual wall of pictures and information arrayed in a rotating circle, or a flowing and elegant curving animated arc around the viewer?
Liven up those uninteresting spreadsheets by importing CSV files into Aurora 3D Presentation in order to animate your tables and data, or create animated charts and graphs, even 3D models! Everything that you could ever ask for in a presentation product you'll find in Aurora 3D Presentation! Import images, create albums, use 2D and 3D text for impact, and play around with special particle effects and backgrounds! The sky's the limit to your creativity with Aurora 3D Presentation! No question about it, Aurora 3D Presentation is the best 3D interactive presentation software.